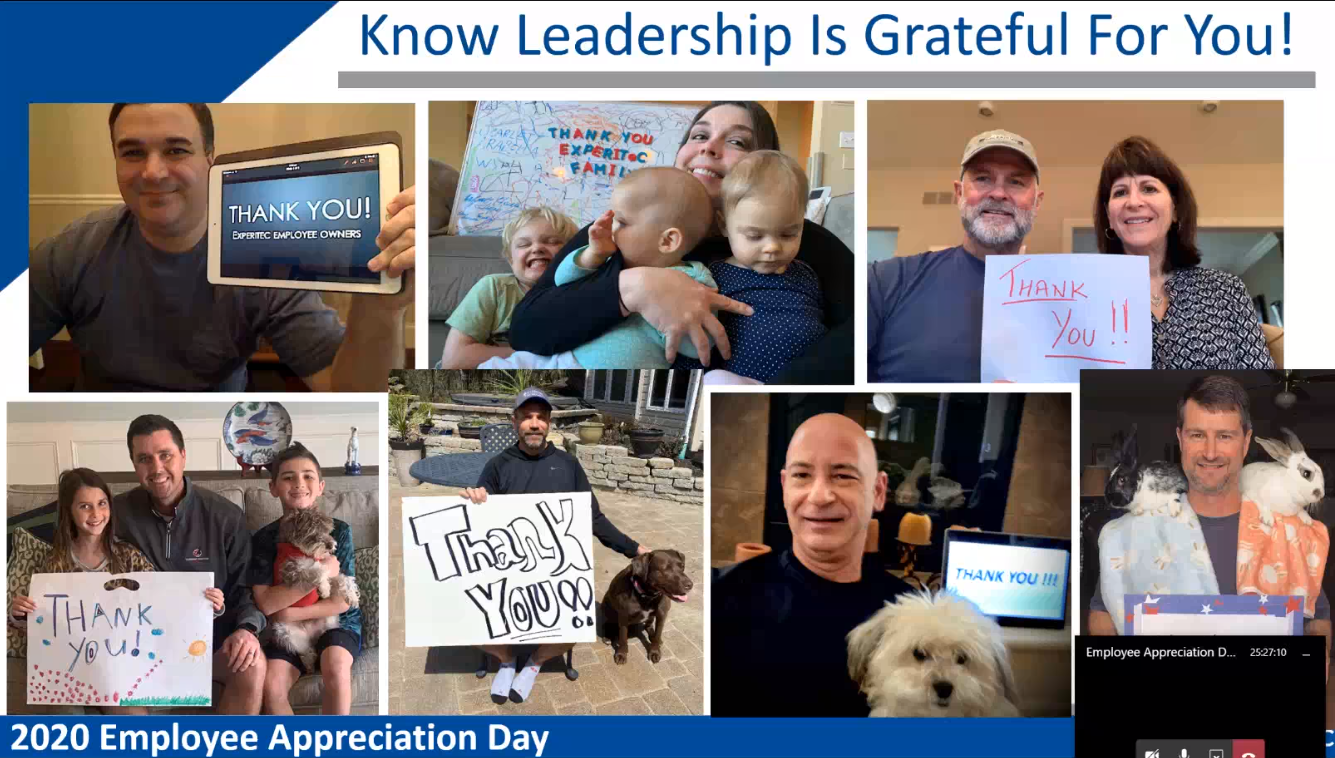 St. Louis, MO — Employee-owned Experitec, Inc. celebrated winning the 2020 Gallup Exceptional Workplace Award for a second consecutive year with a day-long, fun-filled Employee Appreciation Day. Despite being 100% virtual and many employees working remotely, Experitec's Employee Owners participated in several activities with their colleagues. While the world continues to face challenging, unprecedented times, Experitec's employees' commitment to serving its customers never waivers. In true No Equal fashion, Leadership and Employees committed to making the day successful and enjoyable despite having to deviate from the original in-person celebration.
Experitec celebrated a significant accomplishment: receiving the 2020 Gallup Exceptional Workplace Award (formerly Gallup Great Workplace Award) for a second year in a row. Experitec joins a distinguished group of 38 organizations that average a ratio of 17.5 engaged employees to one actively disengaged employee. Receiving this recognition is a direct reflection of the Experitec culture of high performance, commitment to customers, and learning and development. Experitec differentiates itself by investing in employees resulting in them having greater understanding of our customer needs, solving problems and delivering value, and being a trusted and reliable partner with customer intimacy at the center of its business strategy.
Experitec received an exclusive invitation from Gallup to apply for the award based on recent engagement survey results. To be eligible to apply for the award, companies must meet the following criteria:
Total of at least 50 respondents representing a census of the organization
Overall GrandMean (GM) of 4.40+
Participation rate of 80% or higher
Ability to link engagement with business outcomes
Experitec's culture is the direct result of Employee Owners who are high performing, engaged, respectful, ownership minded, customer focused, safety oriented, and happy, healthy, and successful. The engagement and performance of Employee Owners are critical to the success of the Experitec business. Experitec recognizes the best way to provide customers "No Equal" performance is through exceptional Employee Owners. Experitec demonstrates how a focus on employees having a positive work experience directly correlates to business results including increases in sales, profitability, productivity, and a decrease in turnover. Experitec realizes these results are impossible to achieve without the efforts of Employee Owners, and as a result, held an Employee Appreciation Day celebration to recognize employees for their contributions.
Our 100% virtual Employee Appreciation Day celebration began with a "Breakfast Bash" where employees shared their "breakfast of champions" meals (photos below) via Microsoft Yammer. For lunch, employees participated in a Lunch "Launch" Party
(themed after The Office) with chats providing their peers with recognition, sharing pictures of their new coworkers (kids and pets) and sending their best jokes. Peer-to-peer recognition continued over lunch with our President & CEO, Zac Scott, hosting our first ever core value-themed awards, "The Experies" (including awards around our values driven, positive, and collaborative), a Toilet Paper Contest, and Essential Infrastructure Employee Awards.
To thank employees for their efforts, support them while social distancing, and encourage them to enjoy time with the people closest to them, the Leadership Team provided each member of the Experitec family a certificate to use towards a streaming platform, or board games, puzzles, etc. Finally, in preparation for the Share Price Reveal presentation in the late afternoon, Employee Owners submitted photos and recipes of their favorite drinks to compete in the "Most Creative Cocktail/Mocktail" challenge. The day concluded with a presentation delivered by our President & CEO, Zac Scott, Vice President of Sales, Brad Fischer, and Vice President of Shared Services & General Counsel, Jessica Tietjen, including an Experitec rendition of "The Office" announcing the official ESOP share price.
Experitec is honored and humbled by this global recognition from Gallup because it was earned by the collective efforts of each of our No Equal employees who truly make Experitec an Exceptional Workplace. This day of celebration exemplified what truly makes Experitec No Equal – our employee owners.
Click here to view the full list of winners
Click here to view the Gallup Exceptional Workplace Award criteria
Read Gallup's Article:
The 38 Most Engaged Workplaces in the World Put People First
About Experitec, Inc.
As an Emerson Impact Partner in Automation Solutions, Experitec delivers the highest quality and most innovative technologies in the process control marketplace. We help our industrial customers become more competitive by improving performance and reliability, creating safer places to work, and helping them reach their environmental goals through the innovative use of technology and services. For more information, visit: 
http://experitec.com/
About Gallup 
Gallup delivers analytics and advice to help leaders and organizations solve their most pressing problems. Combining more than 80 years of experience with its global reach, Gallup knows more about the attitudes and behaviors of employees, customers, students and citizens than any other organization in the world. Gallup works with leaders and organizations to achieve breakthroughs in customer engagement, employee engagement, organizational culture and identity, leadership development, talent-based assessments, entrepreneurship and wellbeing. For more information, visit:
https://www.gallup.com/home.aspx