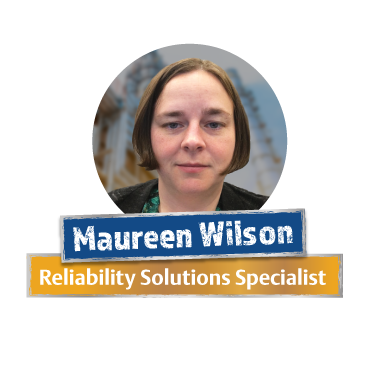 The Glue Behind Our Reliability Team
Creating a solid Reliability Team takes more than good customer communication skills and technical acumen; the team also requires a solutions specialist—someone to organize resources, order products, and coordinate all that's necessary for a successful reliability engagement. Maureen Wilson is that person standing at the helm who is responsible for the entire project coming together as planned. Whatever is needed to fulfill a customer requirement comes to the attention of Maureen.

Her roles and responsibilities as part of the Solutions Development Team are to solve customer problems by taking the appropriate solutions and turning them into a practical plan for the customer, using the best products and technical resources to support the project. She also writes customer proposals, tracks bills of materials, and in general, makes sure that orders are moving along in the system.